Activities
We have our own family beach and also swimming from the rocks or swim ladder.
There is also a large swimming area, a few minutes walk from the campsite.
Crab fishery tends to be the children's favorite pastime when they are here. We also have a nice playground. Next to it is a smaller ball field but we have unfortunately not much more activities for older children.
Our mini golf is nice, overlooking the harbor(currently unavailable). Then we have boules and a clay tennis court.
Rowing boats, for fishing and tours to islets nearby, are available for rent. You can also bring your own boat.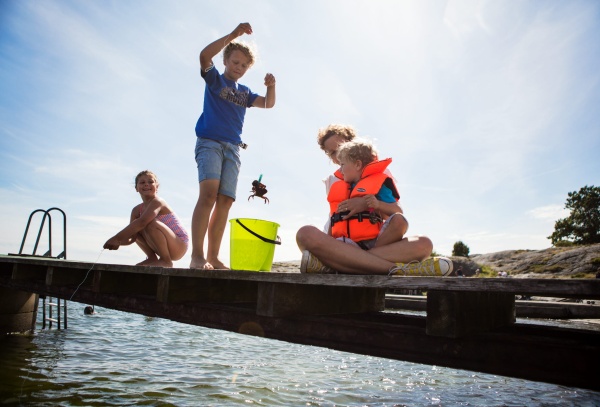 The Beach Explorers - a guided children activity
Who leaves the curly patterns on the sea floor? And who lives in the shell? How does the sea star eat?  
The Beach Explorers is a fun activity for childen in the shallows of the boeach. Together with the guide the children explore, get used to the water and learn about the marine animals in a fun way. 
The guide Anette Bargel is a certified Bohuslän guide. She is also an avid diver and kayaker. so she has a lot of water experience.  She is also trained in EFR.
Read more
Pretty Forest Walk with guide
Come along on a forest walk on the Vindön mountain, including a scenic sandwich-stop. We enjoy the bird song, the beautiful forest, the shade, and some blue berries too. The guide Anette Bargel leads the way among the forest paths and talks of the surroundings, Bohuslän and the Swedish fauna and forest.
Read more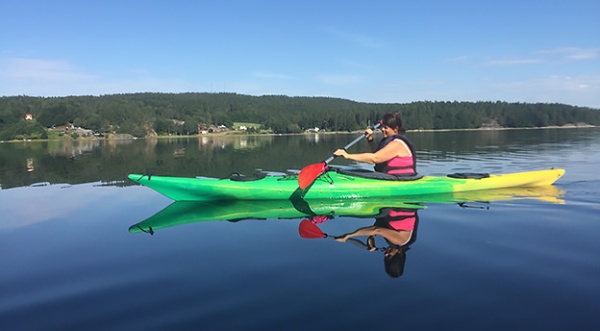 Come kayaking with an experienced kayak guide. We paddle on beautiful and calm fjord waters and experience Bohuslän at its best - on the water. Gliding soundlessly across the surface and spotting both fish and the sea bottom below is a lovely experience. That's how clear the water is. We also make a stop for swimming and sandwiches. 
No previous experience needed, and kayaking is a quick study. 
Read more
Some interesting places to visit within the hour from the camping. Follow the links to learn more. You also find the places plotted on the map underneath.